Interesting development and I'm still sorting through it. I know some people are whining because David was promoting Goldmoney, making some money, likes Donald Trump, covered PizzaGate, and that he's a Jew..which means he HAS to be a Zionist (sarcasm). Apparently that was enough for some people not to like him. I personally couldn't care less if he makes money and is a Jew. I have to wonder if this was an organized take down (by some people or groups) of David because he was covering PizzaGate and he likes Trump. People don't know why David took his PizzaGate videos down but people are chomping at the bit to claim their work at exposing David's methods of making an income as the reason why he took them down. A lot of odd stuff goes down in the alt-media but I have to admit it doesn't look good for good for David that he removed all of his content and basically vanished.

Personally, I do this because I want to,  I make nothing from my site and that's my choice, if somebody wants to try to make a living being a journalist or a researcher knock yourself out. Now, if somebody is scamming people and people can prove that was that person's intention, that's a different story. Key words are "prove intention".

I thought he did a decent job covering PizzaGate and bringing attention to it although it didn't appear he did any deep research into it.  Now I have to go and delete the posts which had his videos in them because there's nothing to see now.
In the end what the deal is with David Seaman doesn't mean a hill of shit in the big picture…~TS
By Aaron Kesel | We Are Change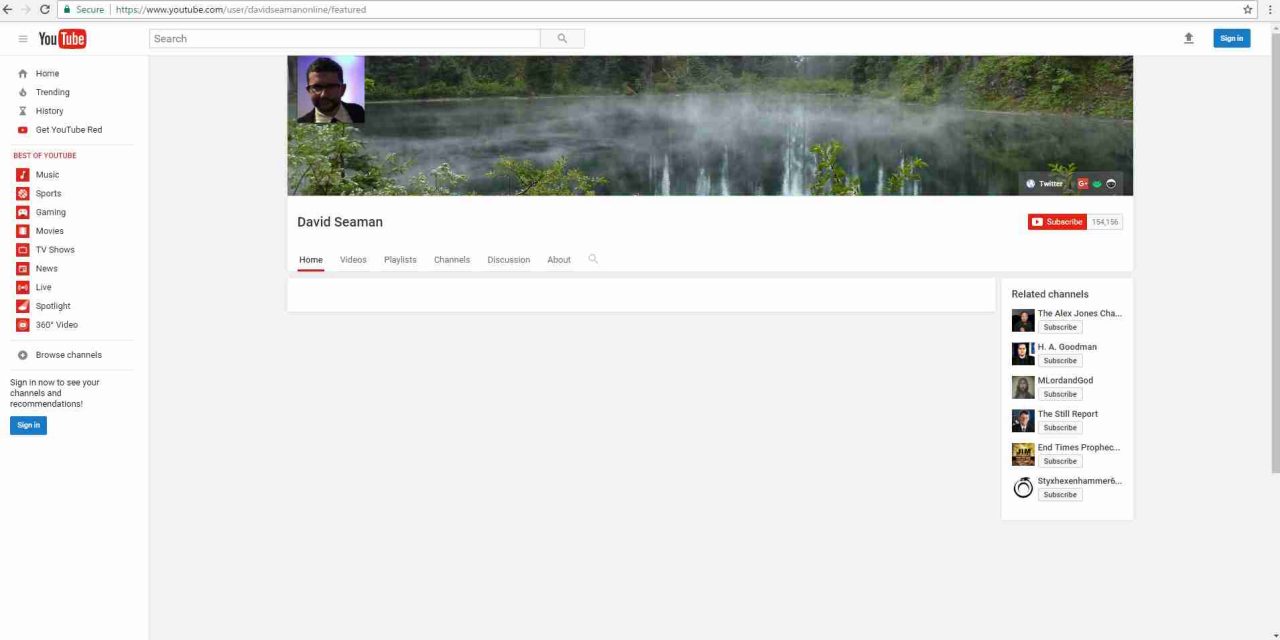 YouTube channel of journalist David Seaman, who has been a core force investigating Pizzagate, is now blank.  Hundreds of videos are missing.
The independent journalist did countless video's showing his findings in the Pizzagate conspiracy, which revolves around an alleged child sex-trafficking ring in Washington D.C.
For more on Pizzagate, check out our other articles on the subject and all the questions still remaining, like the coincidence of these pizza shops using logos that the FBI classified as pedophile symbols.
Seaman's YouTube channel has 154,156 subscribers but is currently displaying no videos as of 12 a.m. EST 2/26/17.Seaman's Vid.me account is also listing no videos.
It's officially  unknown why Seaman's Youtube channel had all of its videos wiped, but it might have something to do with Joe Bernstein, a senior technology reporter for BuzzFeed News who recently wrote a hit piece on Seaman calling him the "Pizzagate King of the Internet."
Bernstein also mocked the topics that Seaman covers despite probably never studying anything he mentioned there.
"On Twitter, Seaman posts dozens of messages a day to his 66,000 followers, often about the secret cabal — including Rothschilds, Satanists, and the other nabobs of the New World Order — behind the nation's best-known, super-duper-secret child sex ring under a DC pizza parlor," Bernstein wrote.
While another Pizzagate researcher Titus Frost alleges that Seaman deleted his channel due to a scam he was running using gold money affiliate links and has taken credit for Seaman's online disappearance.
We reached out to Seaman for comment, but a response was not received before this article was published.
UPDATE: 1:00 P.M. EST- The following Reddit post was sent to WRC in regards to David Seaman posted by an alleged friend of Seaman.
Seaman did indeed have his friend killed previously Ashley Lauren Joy Jones who was found dead in her home along with Kelly Fears Wrenn stabbed to death as the Reddit post said.
Further confirmed by Seaman himself here with an archive of his tweet. So maybe Seaman is just taking some time off from the research for now.
Let us know what you think in the comment section below!


---
---
Categories: Propaganda